Overview
Tendons do a lot of work. In fact, a great deal of what happens when you walk can be related to tendons tugging and pulling in appropriate ways in their proper places. With this in mind, it?s hardly surprising that on occasion, (probably because we too often forget to send them ?Thank you? cards), tendons may decide that they?ve had it. They may buck their responsibilities, shirk their work, and in all other ways cease to function properly. And that may mean bad news for you. Take the posterior tibial tendon: it runs from the bottom of the calf, goes right under that bump on the inside of the ankle (the medial malleolus) and ends up attaching itself to a bone on the inside of the middle of your foot (the navicular bone). It?s the main tendon that keeps the arch of your foot in place, and it helps a bunch in walking, too. Over time, though, we tend to put a lot of stress on this faithful tendon, especially if we?ve put on extra weight, or do a lot of activities that stress it out, walking, running, hiking, or climbing stairs. Sometimes athletes (who do a lot of that walking and running stuff) may put so much stress on the tendon that it tears suddenly. But for many of us, damage may take place gradually (i.e. the tendon stretches out) until the tendon tells us that it flat out quits. (It sometimes doesn?t even give two weeks notice.) In short, you may develop posterior tibial tendon dysfunction (PTTD).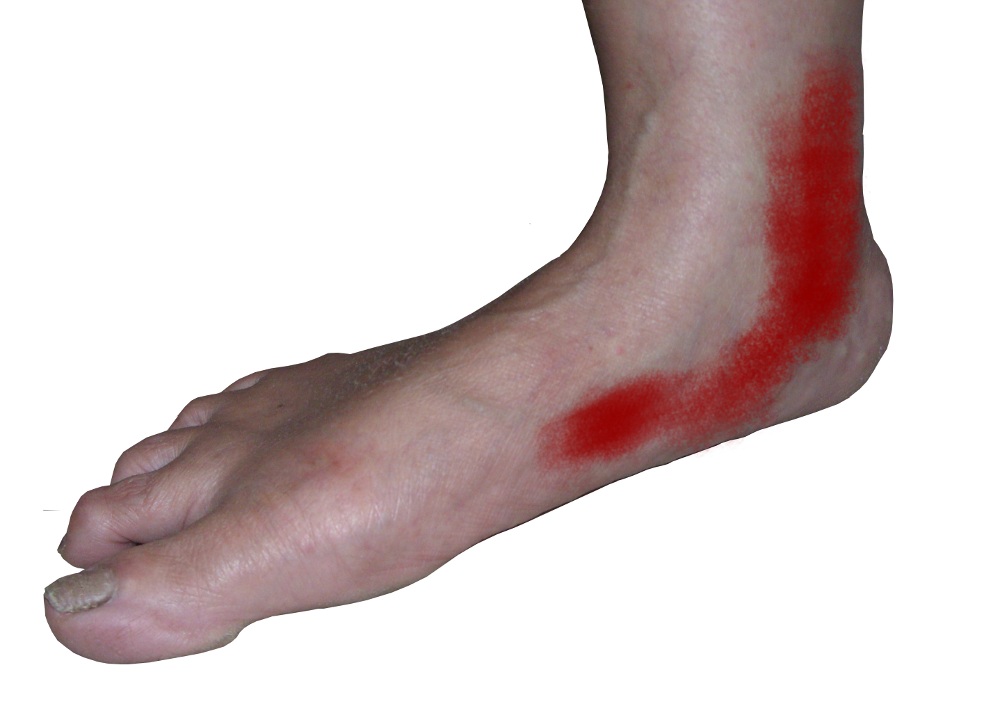 Causes
Flat feet causes greater pressure on the posterior tibial tendon than normal. As the person with flat feet ages, the muscles, tendons and ligaments weaken. Blood supplies diminish as arteries narrow. These conditions are magnified for obese patients because of their increased weight and atherosclerosis. Finally, the tendon gives out or tears. Most of the time, this is a slow process. Once the posterior tibial tendon and ligaments stretch, body weight causes the bones of the arch to move out of position. The foot rotates inward (pronation), the heel bone is tilted to the inside, and the arch appears collapsed. In some cases, the deformity progresses until the foot dislocates outward from the ankle joint.
Symptoms
Often, this condition is only present in one foot, but it can affect both. Adult acquired flatfoot symptoms vary, but can swelling of the foot's inner side and aching heel and arch pain. Some patients experience no pain, but others may experience severe pain. Symptoms may increase during long periods of standing, resulting in fatigue. Symptoms may change over time as the condition worsens. The pain may move to the foot's outer side, and some patients may develop arthritis in the ankle and foot.
Diagnosis
Observation by a skilled foot clinician and a hands-on evaluation of the foot and ankle is the most accurate diagnostic technique. Your Dallas foot doctor may have you do a walking examination (the most reliable way to check for the deformity). During walking, the affected foot appears more pronated and deformed. Your podiatrist may do muscle testing to look for strength deficiencies. During a single foot raise test, the foot doctor will ask you to rise up on the tip of your toes while keeping your unaffected foot off the ground. If your posterior tendon has been attenuated or ruptured, you will be unable to lift your heel off the floor. In less severe cases, it is possible to rise onto your toes, but your heel will not invert normally. X-rays are not always helpful as a diagnostic tool for Adult Flatfoot because both feet will generally demonstrate a deformity. MRI (magnetic resonance imaging) may show tendon injury and inflammation, but can?t always be relied on for a complete diagnosis. In most cases, a MRI is not necessary to diagnose a posterior tibial tendon injury. An ultrasound may also be used to confirm the deformity, but is usually not required for an initial diagnosis.
Non surgical Treatment
Because of the progressive nature of PTTD, early treatment is advised. If treated early enough, your symptoms may resolve without the need for surgery and progression of your condition can be arrested. In contrast, untreated PTTD could leave you with an extremely flat foot, painful arthritis in the foot and ankle, and increasing limitations on walking, running, or other activities. In many cases of PTTD, treatment can begin with non-surgical approaches that may include. Orthotic devices or bracing. To give your arch the support it needs, your foot and ankle surgeon may provide you with an ankle brace or a custom orthotic device that fits into the shoe. Immobilization. Sometimes a short-leg cast or boot is worn to immobilize the foot and allow the tendon to heal, or you may need to completely avoid all weight-bearing for a while. Physical therapy. Ultrasound therapy and exercises may help rehabilitate the tendon and muscle following immobilization. Medications. Nonsteroidal anti-inflammatory drugs (NSAIDs), such as ibuprofen, help reduce the pain and inflammation. Shoe modifications. Your foot and ankle surgeon may advise changes to make with your shoes and may provide special inserts designed to improve arch support.
Surgical Treatment
If conservative treatments don?t work, your doctor may recommend surgery. Several procedures can be used to treat posterior tibial tendon dysfunction; often more than one procedure is performed at the same time. Your doctor will recommend a specific course of treatment based on your individual case. Surgical options include. Tenosynovectomy. In this procedure, the surgeon will clean away (debride) and remove (excise) any inflamed tissue surrounding the tendon. Osteotomy. This procedure changes the alignment of the heel bone (calcaneus). The surgeon may sometimes have to remove a portion of the bone. Tendon transfer: This procedure uses some fibers from another tendon (the flexor digitorum longus, which helps bend the toes) to repair the damaged posterior tibial tendon. Lateral column lengthening, In this procedure, the surgeon places a small wedge-shaped piece of bone into the outside of the calcaneus. This helps realign the bones and recreates the arch. Arthrodesis. This procedure welds (fuses) one or more bones together, eliminating movement in the joint. This stabilizes the hindfoot and prevents the condition from progressing further.